"The proceeds from the fair are used to carry out the
Foundation's mission of preserving Waterford's history."
Crafts at the Waterford Fair
2003 Juried Crafts Demonstrator What Does it Mean?
As you walk through the village, you will see signs referring to Juried Crafts demonstrators. This means that these exhibitors have undergone a rigorous jurying process in order to be accepted as an official Waterford Foundation craftsperson. We appreciate their cooperation in helping us present only craftwork and demonstrations of the highest quality. Your support of the official exhibitors acknowledges their excellent work and enables us to continue this fine tradition each year.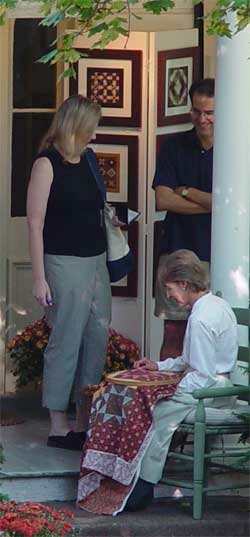 About Our Craft Demonstrators
During the sixty years of the Waterford Homes Tour & Crafts Exhibit, popularly known as the Waterford Fair, the number and variety of craft demonstrators has risen steadily. The Fair is a "teaching Fair" and for that purpose it seeks to have craftspeople who will inform our visitors about traditional crafts through the demonstration of their work and techniques. Because of this, craftspeople demonstrate at least fifty percent of the time.
Selection of craftspeople is based not only on the craftsperson's craft, or his or her skill, but also on thorough knowledge of the craft and its significance in years past. Our craftspeople encourage and welcome visitors, both adults and children, to participate in a "hands-on" experience during the demonstrations.
| | | |
| --- | --- | --- |
| Some of the crafts include: | | |
| Baskets | Floor coverings | Musical instruments |
| Bride & band boxes | Folk art, fraktur & therems | Paper making, cutting, marbling |
| Brooms & walking sticks | Furniture | Quilting |
| Candles & ornaments | Glass | Pottery & porcelain |
| Chairs | Jewelry | Weaving, spinning, knitting, embroidery |
| Dolls & Toys | Leather | Woodworking |
| Dried flowers wreaths & herbs | Metal working | |
| | | |

| Home | Site index |