"The proceeds from the fair are used to carry out the
Foundation's mission of preserving Waterford's history."
About the Waterford Fair
by Margaret Morton for Leesburg2Day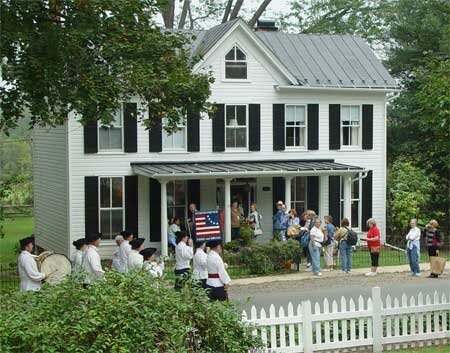 The normally sleepy village of Waterford northwest of Leesburg was bustling with activity last weekend. Up and down the streets homeowners could be seen painting, landscaping and repairing. Such is life in the days leading up to the annual village fair. Preparing for the fair is an annual chore, but one that does prod reluctant homeowners to spruce up for the almost 35,000 visitors that traipse through the 1733 historic village each year.
"Thank God for the fair," said one woman, cleaning out her iris patch.
The oldest of Loudoun craft fairs, it is among the county's largest tourism events. It is also an economic engine for the Waterford Foundation that stages to raise funds for its preservation efforts.
Visitors this weekend will include many who have been coming back year after year, drawn by the fair's historic setting, varied activities and its focus on teaching the traditional craftsmanship of the 18th and 19th centuries.
Established in 1733, the small village and 1,400 acres of surrounding farmland was designated a National Historic Landmark in 1970 in recognition of its relatively untouched pastoral setting so close to the nation's capital.
Right from its inception in 1943, the Waterford Foundation set its sights on hosting an annual crafts fair to raise money to buy, restore and protect some of the village's most threatened commercial structures and to preserve traditional Appalachian craftsmanship.
That insistence on teaching today's individuals about the lifestyles of Loudoun's early settlers has paid off, as visitors and craftspeople alike return each year. Emphasis is placed on the quality of the craftspeople, many of whom are included in the listing of top Early American crafters. Unlike many fairs, at Waterford the craftspeople are required to spend a minimum of 50 percent of their time demonstrating and teaching the public about traditional craftsmanship.
That's an emphasis the public seems to like, as do the more than 160 craft demonstrators, almost 20 of whom have been doing the Waterford Fair for more than two decades.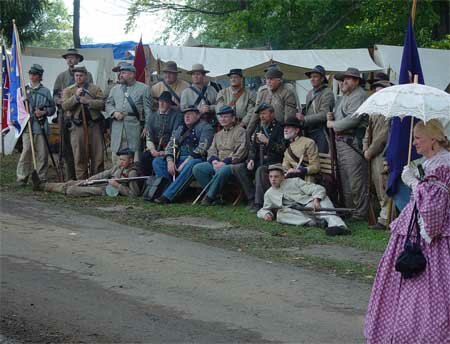 Cindy Gorin of the Colonial-era Maryland Militia, which sets up each year on a sloping hill at the Bond Street Barn field down by the Waterford Mill, says her group is comprised of a bunch of amateur historians. "We love history and we all strive to make it interesting for non-historically minded people," Gorin said. About a dozen students from the Loudoun Valley High School History Club helped the 30-member group on Fridays.
"We are so impressed with their knowledge, skill levels and, best of all their manners," Gorin said. "They are delightful."
Saying history is "much more than dates," Gorin described it as more about teaching the public how people used to live and survive in the early years. To illustrate the point, the group uses the services of local cabinetmaker and fair demonstrator Walt Henderson, who reproduces 18th and 19th century coffins, to show how coffin-making was once an essential part of the cabinetmaker's trade. The group also demonstrates musket firing and military drills.
Potter and former English teacher Eric Chistenson will be returning for his 31st year. In the 1960s, he had two careers: "One for the school system and the other [potting] to keep me sane." He uses the skills learned in the school system to coax young visitors to share the fun of learning how to make a pot.
He recalled his hard-won success one year with a reluctant child. She gave him a "No," when he asked her would she tell him her name. And another
"No," when he asked her if she wanted to learn how to make a pot. "OK, how about next year," Christenson asked. Another "No."
But then, she came back with her mother, who asked him "Is it too late?" Pot made, the little girl reached up and "kissed me on the cheek. I was blown away," he recalled.
There are two Waterford guilds that have been participating for more than 25 years: The Waterford Quilters Guild and the Waterford Weavers Guild.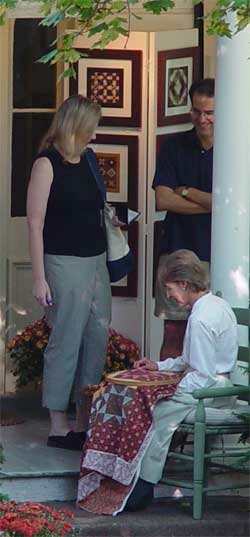 Nationally recognized quilter Anna Holland, who died earlier this year, started it with fellow Waterford resident Kathie Ratcliffe, whose own quilts, notably her miniature pieces, are highly sought after. The group has its largest membership ever this year—60 people ranging in age from their 30s to 80s—according to Guild President Rose Rushbrooke. "We are very much a teaching guild," says Rushbrooke. At the fair, visitors can work on a quilt in a large frame or, particularly children, can try their hand on a stand alone hoop quilt.
Rushbrooke says people often ask, "Why do you do it?"
"They're fascinated, as though the skill doesn't exist anymore," she said, noting that a recent survey indicated that more than $2 billion is spent in the country on quilting. "I enjoy showing people that it can be done," she said.
For Bill Hunley, the fair has been on his must-do list for 52 years. He, Glenn McIntyre, and Edward Cunningham are a fixture in one room at the blacksmith's shop where they make rifles and instruct the public on the fine art of building muzzle-loading guns.
Hunley has been around guns all his life. He grew up on a farm in the Tidewater area during the Depression and one of his daily chores was finding what game could be found to eat. When he came back from World War II he saw people bringing in Civil War rifles and pistols at competitions. He couldn't afford to buy one, so he set about making his own. Invited to come to Waterford, he brought his tools and set up "on an ironing board in the field next to the Waterford general store."
In those looser days, "We had shooting matches down toward the pond," he recalled. He's always been interested in history and the development of the American frontier. "Waterford is a real fine example of a front-line industrial village," he said, referring to its former commercial and manufacturing status.
"We're usually working on a gun in some way," he said, noting that male visitors are fascinated that such a "very crude manual process can produce as accurate a rifle as we do." They are not only functional but beautiful, he says, adding the process of building the old muzzle-loading pieces is an art form in itself involving many stages of work and skill in brass working, wood and metal working. It takes 300 hours to make such a gun, Hunley says.
Marilyn Harrington, this year's president of the Waterford Weavers Guild, notes the organization, which was an offshoot of Waterford Foundation weaving classes, has been coming to the fair for almost its existence.
This year, the group will be in a new location—on the second floor of the Old School, where its 40 members will demonstrate spinning and weaving and display a wide variety of woven rugs and clothing.
Harrington says she loves the fair. "I find it exciting to see all of these crafters doing things, non-mechanized, done a long time ago, and the variety of crafts out there." She says she particularly loves seeing kids when they "get it," she says. Watching two or three children join the action and really understand what they're doing as they throw the shuttle back and forth on the loom is very exciting. "It's important to learn hands-on preservation," she says. Visitors are fascinated by learning about the natural dyes used by the weavers, such as onion skin dyes, golden rod, coreopsis and a variety of weeds. She also loves it when parents come with their children and say, "I did this [spinning] when I was in fourth grade."
One of the more unusual crafts at the fair is "scherenschnitte," a German word which means scissors (scher) and cutting or snipping (schnitte). Lawson and Harriet Carr from Smithfield have been coming for 20 years. "We love the village, its setting and the people," Harriet Carr said.
The Carrs do a little cutting for the children, "who love the word," she said. They are fascinated when "we magically cut a pattern out of a piece of paper with nothing on it," Harriet said. They place the delicate paper pattern which they cut freehand between two flat pieces of glass, then solder the edges. The Carrs say they do shows all over the place, but Waterford is our absolute favorite.

Not only craftspeople, but a number of musicians, food vendors, including the Lovettsville Lions, the Catoctin Presbyterian Church, the Waterford Elementary PTA and the Waterford Citizens Association, and business sponsors are participating in or supporting the fair, and there are some homeowners opening their houses for tour this year who also did it in 1979.
The 14-year African-American potters

Winton and Rose Eugene from Cowpens, SC, are returning to the fair this year. The highly popular artisans have produced a large bowl to raffle off this year to support the preservation work of the Waterford Foundation. A facsimile of the Waterford Second Street School for black children is reproduced on one side, with the faces of schoolchildren done in the Eugenes' trademark bas relief style on the other.

| Home | Site index |
| Waterford history | Loudoun history |
x