Botanists track rare orchid near Waterford
LoudounTimes Mirror, August 6, 2002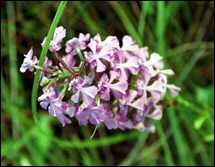 Rare purple fringeless orchid.
Anyone who thinks deer hunting is a challenge should pursue the purple fringeless orchid. It blooms in wet, overgrown bogs during the hottest, most humid days of the Piedmont summer.
A hardy band of 15 or so budding botanists mounted a flower safari a week ago -- the orchid can be captured in bloom only for about 10 days at the end of July. Armed with tick and mosquito repellent, sunglasses, hats, cameras and binoculars, they headed down a steep slope to the banks of Catoctin Creek, north of Waterford.
Wildflower resource

Contact the Virginia Native Plant Society at the State Arboretum in Boyce for more information on native wildflowers of the area. Call 540-837-1600 or visit the Web site at http://www.vnps.org.
Stan Shetler of Sterling, retired chief botanist at the Smithsonian Institution, led the foray, stopping along the way to inspect black-eyed Susans, ironweed and other streamside meadow inhabitants.
The purple fringeless orchid, a Virginia native, once grew in abundance in Loudoun, Maryland and west to the Blue Ridge. It has retreated in the face of development and is increasingly rare. The stand near Waterford is the last known survivor in Loudoun.
The owners of this property -- they prefer to remain anonymous to protect the rare plant and their privacy -- first saw the orchid back in 1993. They saw a flash of pink and returned with the Atlas of the Virginia Flora and a camera.
"It was so spectacular," said the owner. "Most orchids are much smaller. This one was 42 inches tall, and flowering for 12 inches."
They identified the plant as Platanthera paramoena, the purple fringeless orchid. It has become so rare it doesn't appear in the Atlas.
Shetler has seen a specimen in Algonkian Park, but that one is gone, as is the last example of the species in Vienna.
Deer seem to pass them by, after eradicating cardinal flowers and decimating the young button bushes from the same meadow, but the drought may be taking its toll. The once boggy meadow is nearly bone dry. The owners tallied 19 of the orchids two years ago, 58 last year, and only 9 this year.

x